You've found yourself wondering, what is Smartwhip? You've come to the right place to find out the what, the how and the why of Smartwhip.
In this article you will find answers to more than 10 frequently asked questions about Smartwhip.
1. What and who is Smartwhip?
Smartwhip is the company to be the first to introduce a larger disposable cream charger with a pressure regulator to rapidly increase the refilling process of a cream dispenser. Smartwhip first went to market with a 580-gram version that fits 73 smaller ones, becoming a serious competitor of 8-gram cream chargers.
Fast forward to now in late 2022, Smartwhip has innovated lots since then. The initial cylinder was made from steel, which had now been changed to a lightweight aluminium version. Once again, pioneering in a market where innovation is scarce and ideas get copied almost instantly.
2. Smartwhip – a proprietary eponym
A what? A generic trademark or proprietary eponym, is a trademark or brand name that has become the generic term for a general class of products or services, which may or may not be against the intentions of the trademark's owner.
A quick browse on social media made us realise that it seems that we had become the generic term for our industry's category. In a lot of videos on TikTok and Instagram users are posting videos referring to 'smartwhips', even when the brand of the product displayed is not ours. For example, similar products to ours from competitors – such as Exotic Whip and Fast Gas – are referred to as 'smartwhips'.
3. When was Smartwhip invented?
The Smartwhip product was born in 2019 in Amsterdam, and so was the company. Smartwhip was the first one to market the large disposable tank with nitrous oxide as a replacement of the traditional 8-gram cream chargers and gather the largest portion of the market in the United Kingdom. In marketing strategy this is called FMA. First-mover advantage is an advantage gained by the first major occupier of a market segment in terms of competition.
4. What is Smartwhip gas?
Smartwhip gas is food-grade nitrous oxide (E942) with 99,99% purity. However, in early 2022 Smartwhip did a real-life test case by premiering the usage of Smartwhip Nitrogen and Smartwhip Carbon Dioxide at Lisbon Bar Show 2022.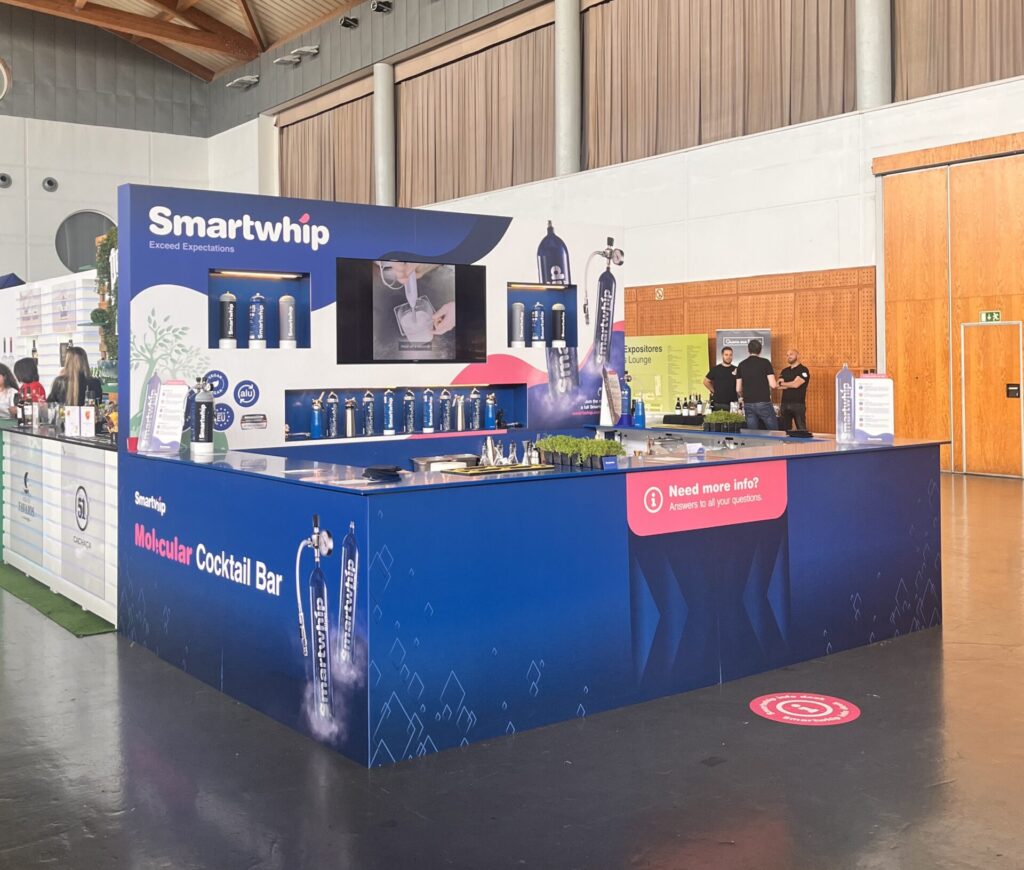 At this show Smartwhip created cocktails such as:
Nitro Espresso Martini: vodka-infused Madagascar vanilla, a foam of black beer and a solid cacao foam sponge cake.
Gold Over Blue: berry-infused gin with blue curacao, sparkling wine and fresh orange juice foam. Topped off with edible 23K gold!
Pink Velvet: marshmallow-infused vodka with sweet cotton foam and lime cordial, topped off with raspberry merengue.
Healthy Probiotic: basil and raspberry kombucha with fresh cranberry juice and spirulina foam.
Several techniques were used to create cocktails with the help of food-grade gases. Nitrous oxide was used for rapid infusion to mix and blend 2 or more components quickly and thoroughly, and as well for the creation of foams. Carbon dioxide was used for carbonation of the liquid of the coffee and alcohol mixture of the cocktail Nitro Espresso Martini. Finally, nitrogen was used to increase conservation of the fresh orange juice foam in order to preserve its freshness.
Aftermovie Smartwhip at Lisbon Bar Show 2022
5. Is Smartwhip legal?
Smartwhip is legal in most countries as long as it is not used for recreational purposes. However, in some countries nitrous oxide gas is added to the list of drugs prohibited by the Opium Law. Such countries include Netherlands (per January 2023) and Portugal (per September 2022).
Usage and supply of nitrous oxide for recreational purposes is illegal in most countries. Smartwhip's sole purpose is to be used as a food additive.
6. Where is Smartwhip made?
Smartwhip Silver is made in Germany and in Italy. The aluminium cylinder is made in Germany and the food-grade nitrous oxide gas is from Italy. The Smartwhip headquarters is located in Warsaw, Poland.
7. How many canisters are in a Smartwhip?
Smartwhip contains 640 gram of nitrous oxide. When referring to smaller cream chargers as canisters, most of these fit 8 gram.
That brings us to the following calculation:
640 / 8 = 80 canisters
For every Smartwhip Silver of 640 gram there is 80 smaller cream chargers of 8 gram.
8. Smartwhip – how to use?
To use Smartwhip, first take the protective cap off of the nitrous oxide cylinder.
Screw the pressure regulator on top of the cylinder.
Pull off the adapter from the pressure regulator hose and screw it tightly onto the cream dispenser. This is done where you would normally screw on the whipped cream cartridge sleeve.
Pour the liquid contents into the cream dispenser and close it.
Connect the pressure hose end to the adapter through the easy push-and-pull connector and open the small gas flow switch.
Set the gas pressure according to your recipe with the help of the Smartwhip pressure table by turning the big black knob in a clock-wise motion.
Shake the dispenser, but don't overdo it. Shaking the cream dispenser for 5-8 times is enough.
9. How to use Smartwhip without nozzle?
Using Smartwhip without a nozzle is easy when you have access to a pressure regulator. Luckily, this is a product that we manufacture. Use the Smartwhip pressure regulator whenever there is no nozzle within reach to safely dispose of the residual gas before completely emptying it.
10. Smartwhip – where to buy?
Smartwhip can be purchased online in United Kingdom and in United States.
For buying Smartwhip in United Kingdom, please visit www.smartchefstore.com.
For buying Smartwhip in North America, please visit www.americanchefstore.com.
For canisters in bulk amounts, visit our cream chargers wholesale page to compare different brands and find your personal preference.