3 essential molecular gastronomy foam recipes: hot, cold and solid
The act of eating is an interaction between man and food, which is why much of the culinary industry revolves around delivering a memorable dining experience. That is, the guest's needs must be anticipated and met to leave a lasting impression. Everything from the service to the food to the ambience plays a role here. With competition being as fierce as it is today, chefs are becoming bolder and bolder in their culinary practice, exploring new avenues and spending hours working out the perfect combination of texture, aesthetic and flavour.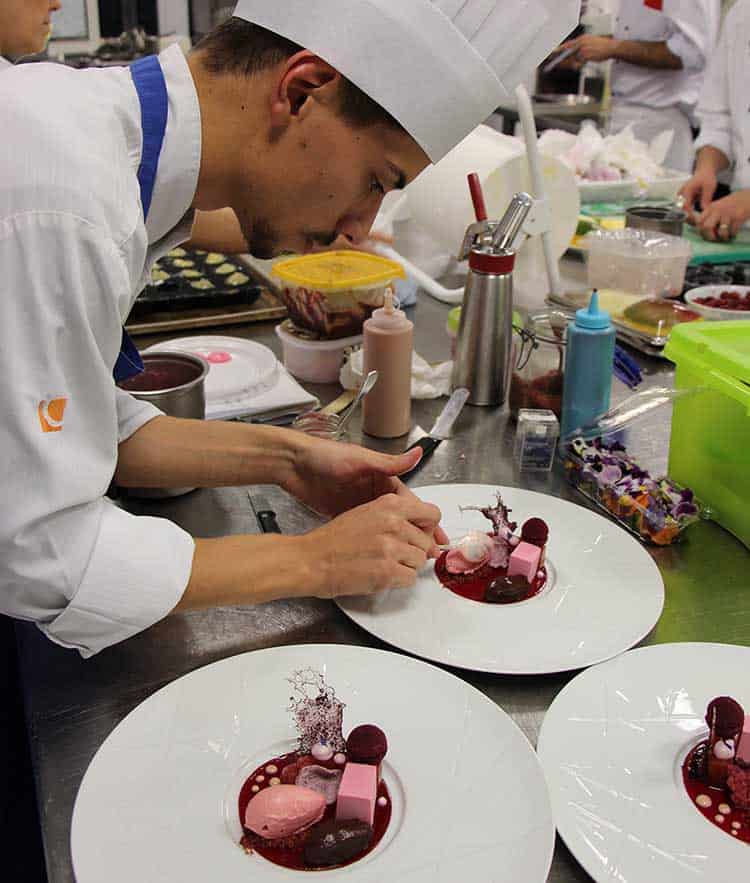 Together with our ambassador, Chef Rui Mota, we at Smartwhip are also exploring new methods to display dishes, build up texture and exploit flavours. Continuing on the topic of culinary foams, it's time to dive deeper into the creation and application of culinary foams. In this post, we will demonstrate three molecular gastronomy foam recipes that will build a strong foundation for chefs and bartenders eager to up their game in the field of molecular gastronomy. So stay with us to find out how to create the perfect cold, hot and firm foam with Smartwhip.
Top 3 molecular gastronomy foam recipes every chef and bartender should know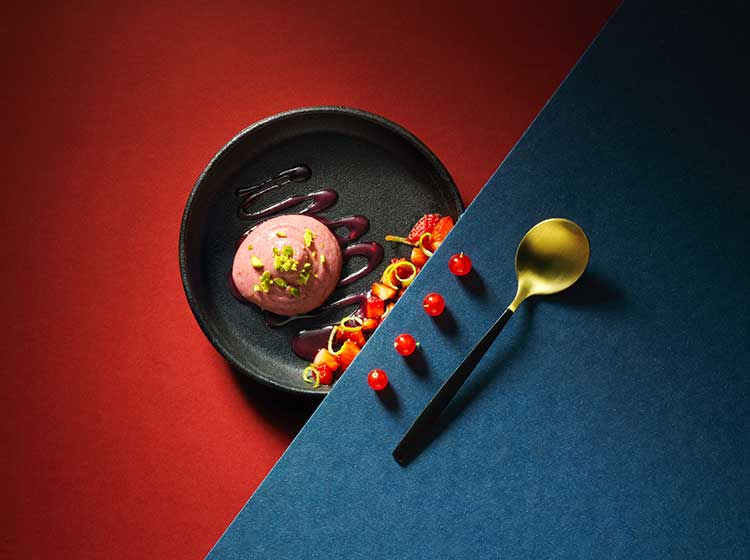 Recipe 1: Cold mango foam-mousse
To kick things off, we present to you the most common type of foam, the cold foam. Ideal for garnishing desserts with the fragrant flavour of fresh mango, or for adding a textured layer to a fruity cocktail, this cold mango foam-mousse recipe forms the basis of all foam types.
Equipment
Blender, whisk, siphon, Smartwhip cream charger, strainer.
Ingredients
200 g fresh mango pulp
100 ml lukewarm water
2 sheets of gelatin
Method
Dissolve the gelatin sheets in the 100 ml cup of lukewarm water.
Blend the mango pulp until you achieve a fine puree, then pour it into a bowl. Add the dissolved gelatin sheets to the bowl and briefly incorporate the ingredients using a whisk.
Strain the mixture into a siphon, connect your Smartwhip to the cream dispenser and charge it to 10 bar. Disconnect your Smartwhip from the cream dispenser and shake the siphon for about 10 seconds to evenly distribute the gas.
Let the siphon rest in the fridge for about an hour before serving.
Notes & suggestions
As already mentioned in our previous post on culinary foams, gelatin builds a net of protein around the air bubbles of foam, therefore stabilising it. So whenever you are making a culinary foam, it's essential to add a protein to the mixture – be it in the form of gelatin, egg white, albumin, soy lecithin or another protein – to keep the foam from collapsing quickly. You can successfully apply this method to other molecular gastronomy foam recipes, spicing things up with other exotic fruit. Remember to strain the fruit into the siphon to avoid clogging up the nozzle! We recommend serving the mango foam-mousse with some greek yoghurt and mint, panna cotta or a fruit salad.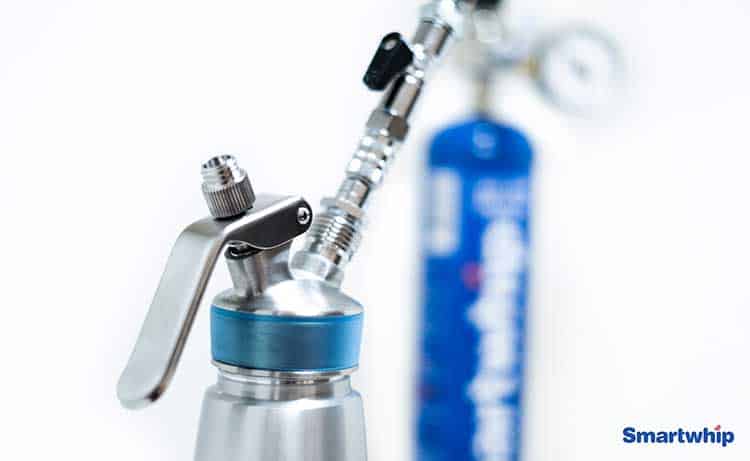 Recipe 2: Instant swiss meringue foam
Warm foams require a bit more time and finesse to avoid curdled, clumpy bits. Lucky for you, in this instant swiss meringue foam recipe, the sous vide does the hardest job for you. Another classic recipe that can form the basis of prospective hot foams, you can personalise this recipe with fruit zest or a range of flavoursome extracts.
Equipment
Sous vide, vacuum pack, whisk, siphon, Smartwhip cream charger.
Ingredients
100 g egg whites
100 g white sugar
1 sheet of gelatin
Method
Hydrate the gelatin sheet with cold water, then dissolve it in a small cup of lukewarm water.
Mix the egg whites and sugar with a whisk, add the dissolved gelatin sheet, then place the mixture in a vacuum pack and cook it in the sous vide at 74°C for 30 minutes.
When the indicated time has passed, strain the mixture into a siphon, connect your Smartwhip and charge it to 15 bar. Disconnect your Smartwhip, shake the siphon for 10 seconds to evenly distribute the gas, then release the meringue on your dessert of choice.
Alternative: Release the meringue on a silicone mat and bake it in the oven at 100°C for 30 minutes for lightweight, traditional meringues.
Notes & suggestions
Because the egg whites are cooked in the sous vide, the warm meringue foam doesn't need to be baked and can be served as it is. We would even recommend adding both – the warm and baked foam – to contrast the textures. The foam is delicate to the touch and pairs delightfully with a slice of lemon pie. Braise the meringue foam with a torch for a smokey flavour, and for a crunchier result, replace 100 grams of the sugar with 200 grams of isomalt. To keep the foam warm and ready for use throughout the lunch or dinner service, leave the siphon in a water bath at 60°C.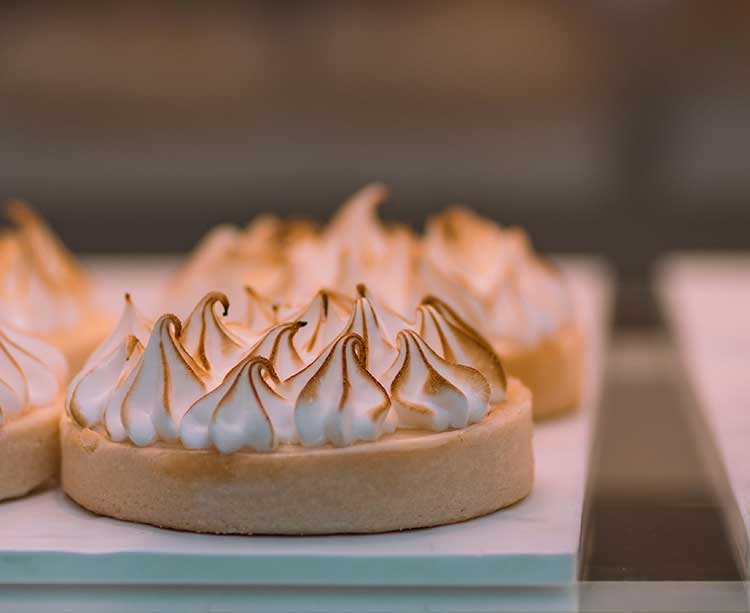 Recipe 3: Basil sponge cake
Modelled on Ferran Adrià's legendary black sesame sponge cake, this basil sponge cake belongs to the more adventurous types of molecular gastronomy foam recipes. Also making use of a siphon, the ovoid air pockets of the foam stay firmly in place after being microwaved. Rich in colour, flavour and texture, this basil sponge cake will undoubtedly deliver that startling element of surprise.
Equipment
Blender, strainer, siphon, Smartwhip cream charger, microwave.
Ingredients
50 g almond powder
30 g blanched fresh basil leaves
125 g egg whites
80 g egg yolks
50 g sugar
65 g flour
12 g of green colourant (optional)
Method
Place all of the ingredients in a blender and blend them until you achieve a smooth consistency.
Strain all of the ingredients into a siphon, connect your Smartwhip and charge it to 15 bar. Disconnect your Smartwhip, shake the siphon for 10 seconds to evenly distribute the gas, then release the mixture into six plastic cups, filling them about mid-way.
Briefly microwave the cakes for 35-40 seconds (depending on the power of your microwave) and place the cups faced down to retain the humidity.
Notes & suggestions
This airy foam cake is versatile enough to deserve a place in every chef's recipe book. As a dessert, it pairs perfectly with a scoop of pistachio ice cream; teamed with a cocktail, it's the perfect decorative touch on the rim of a cocktail glass; marked by air pockets of varying size, the cake produces a quirky coral effect. And dehydrated, the cake becomes even firmer – almost crispy. While the fresh basil leaves will already leave a light-green tint, we decided to add a touch of green colourant to enhance the effect. Again, this sponge cake recipe forms the basis of a wide range of sponge cakes. Replace the basil with your ingredient of choice – peppermint, rosemary, orange, lemon or raspberry to name a few – or combine various flavours to create something unique.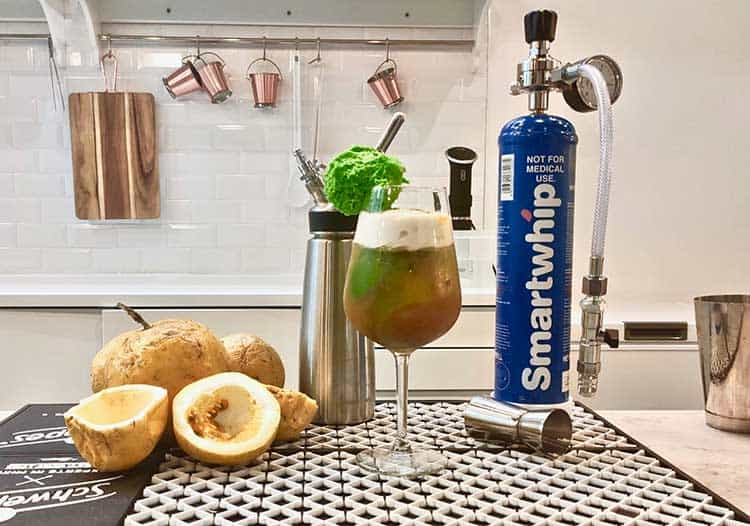 Get the Smartwhip system here and stay tuned for more content on molecular gastronomy! Want to discover more molecular gastronomy foam recipes? Visit our recipes page and find a range of recipes on culinary foams, rapid infusions, cocktails and much, much more.