Update 11:10 02/03/2022
Congratulations to the winners of the Smartwhip cream dispenser competition 2022 🎉 Stay tuned to see the recipes of these two great cooks.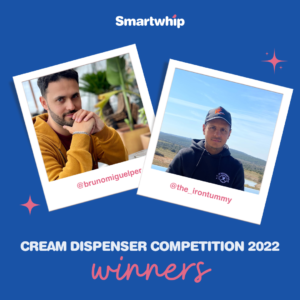 Are you ready for a cooking challenge?
If you are well trained and possess good cooking skills, contests should probably have some merit. Despite losing the battle, you gain knowledge, contacts, and certainly learn some useful tips.
Probably the most significant feature will be getting customized feedback from seasoned experts in your industry. All this is worth it for the potential of the chefs, even for already famous chefs.
The higher the competition the greater your skills are and you'll definitely become the most successful! The competition helps to develop young chef's desire to do better.
Participation in the culinary competition
The cooking competition can take place everywhere. You don't need to cook in a restaurant, and not only professionals can compete, also amateur bakers and home cooks.
As long as they use a cream dispenser and create the best dishes possible. Passion for cooking will not be enough for this cooking competition. Technical skills, as well as food styling, are crucial for winning.
This cooking competition is about planning and preparation without the pressure of time limit.
It is different from a cooking competition show, like Hell's kitchen with Gordon Ramsay, which is the definition of a stressful cooking competition and it is more focused on the improvisation skills.
You will have all the time in the world to think about an idea and battle for the title of the best chef of the Smartwhip cream dispenser competition.
Prizes
Chefs who win cooking competitions are often rewarded with cash prizes and other attractive rewards.
In our culinary competitions chefs won't compete for a cash prize, chefs compete to win products they can use to improve their work.
At Smartwhip, we want to do something different. We don't want to just give a prize to the best chef, but also to the the second one and the third one.
The 1st prize: 6 Smartwhip cream chargers (615g per piece), Smartwhip pressure regulator, 3 Smartwhip cream dispensers.
The 2nd prize: 3 Smartwhip cream chargers (615g per piece), Smartwhip pressure regulator, 2 Smartwhip cream dispensers.
The 3rd prize: 1 Smartwhip cream charger (615g), Smartwhip pressure regulator, Smartwhip cream dispenser.
Chef competition rules
The main rule of the competition is to cook a dish with the mandatory use of a cream whipper. You can use any kind of cream whipper.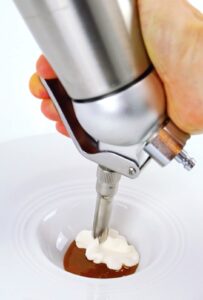 If you are a sous chef, a pastry chef or a head chef you probably have knowledge about molecular gastronomy and the use of a cream whipper.
For those who are not professionals but home cooks or amateur bakers, don't worry! An online course about the use of a cream whipper can be the solution.
There is room for interpretation, and you can range from appetizer to dessert.
In Master Chef cooking competition show, all contestants are amateur chefs that don't work in restaurants but their food is cooked to perfection.
No matter how experienced you are! No matter what type of cooking you prefer, from starters to competitive baking, there is definitely something you can bring to our attention.
Cooking competitions are not just for professionals – anyone who tries their best at home can get involved!
It's part of the reason why cooking competition shows are so popular. Cooking is a hobby that a large majority of us enjoy and it is fun to see people competing against each other.
Chef Rui Mota: the cooking competition's judge
The winners will be chosen with the help Rui Mota, a true connoisseur of molecular gastronomy. In recent years he organized competitive cooking contest and workshops about culinary foams.
Handling his first cream dispenser at Heston Blumenthal's kitchen at The Fat Duck in London, Mota bounced from one Michelin star restaurant to the next.
From shadowing Jordi Cruz in Barcelona's acclaimed restaurant ABaC, Mota expanded his skill set at L'Air du Temps in Belgium alongside chef Sang-Hoon Degeimbre, and perfected his craft at one of the world's most esteemed restaurants, El Celler de Can Roca, run by the Roca brothers.
Today he is teaching classes on molecular gastronomy and he work in a restaurant has executive chef.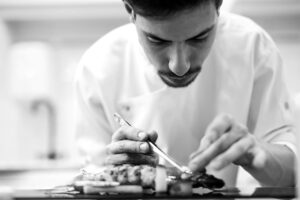 Chef competition evaluation
A total 100 points can be accumulated, divided over four categories: 40% food styling, 30% culinary techniques, 20% creativity and last but not least: the recipe description. The judges will evaluate each chef on this basis.
Food styling means that the dish is presented in a beautiful manner. The chefs must present a good quality picture of the dish.
Culinary techniques refers to the way in which your recipe is prepared and presented. Creativity refers not only to the final dish but also includes everything that helps you create this end product: the ingredients, cooking methods, equipment used etc.
Recipe description is also an important category. It is what tells the judges everything they need to know about your dish: What are the flavors? How is it cooked? What ingredients are used? Etc.
The winners will have paid a lot of attention to details.
The judges are looking for flair, skills, ability and an understanding of how to prepare food. And if you manage to film yourself while cooking, this could give you extra points: we will share these movies on our social media channels.
Your recipe will also be published on our website that is visited by more then 1.000 like-minded chefs per day.
Deadline
The culinary competition will end the 1st of March. No later than this date all chefs who want to participate in the contest must send us a good quality picture of their culinary arts with a good description of their recipes.
To enter the competition you need to send us the recipe description in English. The more detailed the better!
How to enter
You need to follow us on Instagram @smartwhip.
Tag your chef buddy in the comments of this post.
Enter your email here.
What do you have to do
Create or execute your recipe.
Do the food styling and plating of your dish.
Make beautiful and high quality photos of your dish.
Write down your recipe.
Submit your recipe and photos to allegra@smartwhip.com
What we expect from you
You don't need to be a top chef, or have already attended chef competitions before, but of course we expect the highest quality from you.
We also expect from you to be competitive with yourself, with others and have fun with this!
We would love it if you could film yourself while cooking your dish and post it on Instagram, but that is not mandatory.
What we offer you
Apart from the chance to win a great prize, we offer you the opportunity to learn new techniques by challenging yourself and get creative inspiration.
Take part in competitive cooking contest gives you a chance to show off and test your skills in a fun and constructive way.
The best recipe will be published on our website, and that is why it will be inspirational for chef all around the world. They can take advantage of the recipes and cooking techniques blog posts for inspiration.
So make sure to send us your best ones.
Suggestion: practice, practice, practice!
The suggestion is to practice and practice before the contest. Cooking is an art, and like with any other type of art, the more you practice the better you get.
That is why we advise our contestants to take their time in practicing their recipes before sending them to us. This will not give you the opportunity to prefect your dish.
We are looking forward to see your amazing dishes
We are looking forward to see your amazing dishes. The most important thing is to have fun and enjoy the process. We are sure that you will learn a lot of new things and get creative inspiration.
Take part in our cooking contest and show us what you can do!