Many professional bakers and pastry chefs use cream chargers as a whipping agent in a whipped cream dispenser. If you are ready to take your baking skills to the next level, these cream chargers are the right choice! And yes, cream chargers add a smoother texture and better taste to your whipped cream.
And, if you think that you've to invest a lot on a cream charger, you're mistaken. We've found ten cheap cream charges that do a fantastic job. So, are you ready to upgrade your set of baking tools with a new cheap cream charger?
Culinary Use of Cream Chargers
There are a variety of ways you can use these cream chargers in your kitchen. With cream chargers, you can unlock endless gastronomic possibilities. Below is a quick rundown of the several applications of cream chargers that you can try out:
     

Dessert and Mousse:

If you've tried your hands on whipping the cream to make a perfect mousse, you'll know that the process is no cakewalk. Creating an ideal mousse requires the right knowledge and expertise. You need to make peaks just stiff enough for the right texture. Thanks to cream chargers, making mousse is easy peasy.

     

Whipped Cream:

Whipped cream is one of the most common and famous applications of cream chargers. These cream chargers will whip cream in a short span. When you inject the N

2

O inside the charger and into the cream, it reacts with the gelatine, fat, and other stabilizing agents. This ultimately leads to a foamy texture. Unlike manual whipping, cream chargers take less than half the time to whip your cream.

     

Infusing Syrups, Alcohol, Sauces, and Oil

: You can use a cream charger to infuse your favourite flavors into sauces, alcohol, and oils. The best part about cream chargers is that they can work with multiple ingredients. You can place your favourite ingredients in the dispenser and inject them with N

2

O. Cream chargers accelerate the process of infusion in syrups, oils, marinades, and sauces.

     

Alcoholic Cocktails:

Foams are a tremendous aesthetic addition to cocktails. However, the traditional recipe for foams and espumas is typically time-consuming and demands a lot of effort. Making these recipes for cocktails requires a lot of elbow grease. It is also worth mentioning that egg white foam in cocktails is tasteless and unpleasant. But, cream chargers allow you to add panache, aroma, and zing to the drinks.
Quick Link: Are you trying a new recipe that involves whipped cream? Make your job easier by using a Smartwhip gräddladdare!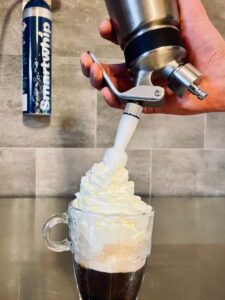 10 Best Affordable Cream Chargers
It is easy to feel overwhelmed, given that there are thousands of cream chargers available in the market. Moreover, if this is your first purchase, the numerous features available in cream chargers might confuse you even further. But worry not!
This section of the article will introduce you to the top picks for cheap cream chargers. Some of these also come with free delivery offers. We've also mentioned the price of each cream charger so that you can compare all of them! 
1. Smartwhip Cream laddare
"Cream charging at double the speed and half the effort"- It's what the Smartwhip cream chargers can do. You might think that cream chargers at this rate are too good to be true. As it turns out, Smartwhip cream chargers are also the first choice of many professional bakers and chefs. Smartwhip cream charger is a bang for the buck.
Smartwhip opened its doors to the culinary world just two years ago. It also happens to be one of the first brands to introduce 580-gram cylinders in the industry for catering purposes. This 580-gram nitrous oxide tank is trademarked by Smartwhip.
It provides the users with high quantities of nitrous oxide. What's more, the innovative charging system leads to a quicker and more efficient charging experience. Due to this, even large-scale caterers and restaurants can pick Smartwhip as their cream chargers.
Price: A single Smartwhip canister can cost between £30 to £40.
2. SupremeWhip Cream Chargers
The high-quality cream chargers reflect the 60-year experience of SupremeWhip in the market. Like many other conscious brands, SupremeWhip also uses 100% recyclable steel for construction. The high-quality cream charges contain 8.2 grams of certified culinary-grade N2O gas.
Moreover, the brand guarantees no duds and leakage. The zinc coating ensures that the cream charger does not corrode due to moisture. It also has a universal fitting, which means you can buy this product worry-free.
It also claims that it can effectively whip 0.5 litres of whipping cream into 1.5 litres of whipped cream. All in all, it is a tough competitor to the other cream chargers on this list.
Price: SupremeWhip charges about £12.95 and £163.95 for 24 unit and 480 unit pack sizes respectively
3. QuickWhip Cream Chargers
QuickWhip is the pioneer of the cream charger industry. Throughout these years, this brand has carved a niche for itself. Their products are certified and produced in Europe. The QuickWhip Cream Chargers contain about 8.2 grams of nitrous oxide content. It is also worth noting that QuickWhip has an experience of over six decades in this industry.
It can produce as much as 1.5 litres of whipped cream from just 0.5 litres of plain cream. Additionally, they have a blue zinc chrome coating to fight corrosion caused by moisture. You'd also be glad to know that this charger also uses patented cleaning methods to prevent residue or chemical aftertaste.
Price: The pricing for a pack of 10 pieces of QuickWhip Cream Chargers starts at £6.87. A larger pack size of 200 pieces comes at a price of £113.87.
4. MOSA Cream Chargers
You should know that MOSA Cream Charger is one of the most premium choices you can make. These N2O cartridges can charge a variety of standard aluminum cream whippers. You can find the MOSA cream chargers in quantities of 10, 24, and 50.
It is worth mentioning that the MOSA cream chargers have significant applications for the catering industry as propellant gas. Besides, it is colourless, non-flammable, tasteless, and can restrict bacteria growth. It also has a nickel and silver lacquer coating to prevent rust. And, the MOSA cream chargers can withstand the rough and harsh conditions of busy kitchens.
Price: The price for MOSA Cream Chargers falls between £9.95 for a pack of 24 to £119.99 for 240 chargers.
5. Kayser Cream Chargers
When it comes to quality cream chargers on a budget, Kayser is a game-changer. The chargers from Kayser feature 7.5 grams of N2O. You can use these cream chargers with any whipped cream dispenser. You can expect a single Kayser cream charger to whip 0.5 litres of whipping cream.
If you want to buy cream chargers in higher quantities, you can pick from the bundles of 24, 48, 96, 192, and 600 units. Kayser produces its cream chargers in Austria.
Price: Kayser has priced its cream chargers at £12.50 for a set of 24 pieces.
Image Credits: Brands for Gräddladdare
6. iSi Cream Chargers
iSi Pro Cream Chargers offer great value for money. Despite the low pricing, the iSi cream chargers are one of the highest quality chargers available in the market. What we love most about this brand is that they use completely recyclable steel cartridges. 
iSi has also launched a new range of purple professional chargers. This new range of cartridges has allowed iSi to set a new standard for itself. 
Price: You can buy the iSi pack of 24 cream chargers for £9.99. A bunch of 240 units, on the other hand, is priced at £110.99.
7. Hendi Cream Chargers
Hendi is a premium brand in the cream charger category. The brand has a speciality in the supply of kitchen tools, cooking equipment, cutleries, and buffet utensils. In a nutshell, it has a range of products for the catering industry.
This international brand has an impressive cream charger. One of the reasons why Hendi is so popular is because of its competitive pricing. The client-oriented approach of this brand is sure to satisfy you. The cream chargers have an extended shelf life of 5 years.
Also, the maximum N2O capacity of their chargers is 7.8 grams. You can pick from the different pack sizes available.
Price: A set of 24 Hendi cream charger cartridge converters will cost you £9.99.
8. Cream Deluxe Cream laddare
Cream Deluxe is a new entrant in the cream charger industry. In contrast to the commonly available 8-gram cartridges, the cheap cream chargers at Cream Deluxe rank better in terms of efficiency. It is worth mentioning that the chargers offer 80x more content.
What's more, you can find cartridges in different packaging sizes. The packaging sizes available with Cream Deluxe are – 1 piece, six pieces, 12 pieces, and 48 pieces. So many different packaging bundles let you pick one according to your requirements.
Price: A 615-gram cream charger from Cream Deluxe costs £27.99.
9. Cheap Cream Chargers by LISS
The best part about buying cream chargers from this brand is that they work with most standard cream whippers. LISS uses 100% recyclable steel for its chargers. Like the other cream chargers on this list, this one also has a slightly sweet odour, is tasteless, non-flammable, and bacteriostatic.
LISS manufactures its chargers in Europe. As a result, these chargers have European certification. You must ensure to not expose the unused cartridges to temperatures above 122-degree Fahrenheit. It is also mandatory to avoid any chemical, mechanical, or radiological impact on these cream chargers.
Price: Expect to pay anywhere between £9.19 for 24 pieces and £84.95 for 240 units of cream chargers by LISS.
10. BestWhip Cream-laddare
These cream chargers hold twice the amount of content as the standard cartridge canister. It is apt for whipping high quantities of whipped cream. Like many other brands in the market, BestWhip Cream Chargers also come with a plating.
The layer of nickel plating on the body of the charger allows it better durability. It can offer robust protection against corrosion. These N2O chargers can make your job super quick and straightforward. Also, it can whip ½ litre of fresh whipping cream into 3 times more whipped cream.  
Pris: BestWhip cream chargers cost £8.99 to £187.95 depending on the different pack sizes.
Where can you find quality whipped cream chargers that won't burn a hole in your pocket? Yes, at Smartwhip!
Factors to Consider While Buying Cream Chargers
Buying cream chargers can be a complicated process if you don't know what features to consider. Moreover, the availability of the above ten cheap N2O cream chargers does not make the job of choosing any simpler. This buying guide aims to help you narrow down your preferences.  
You can find a breakdown of the different factors you should consider while buying cream chargers as you read on. Keep reading! 
Easy Operation
Out of the box, the cream charger should be something on the grounds of plug and play. Make sure that you pick a cream charger that doesn't feel like you're dealing with rocket science. Working with a complicated cream charger can spoil your cooking experience as well as the dish.
You should not require a third person to help you with this whipping device. It is also ideal to buy a cream charger that does not pose any hassle while cleaning. Cleaning the equipment from any traces of fluid should be trouble-free.
Kapacitet
If you've previously looked for cream chargers, you'll know that they are available in different capacities. The ideal capacity for you might not be the same as other buyers. You should pick a capacity according to your usage frequency.
For home use, a set of 24 N2 cartridges is more than enough. However, if you run a bakery, restaurant, cafe, or bar, you'll need sets of 300 cartridges or 120 cartridges. You might require more cream chargers depending on your usage.
Also, some cream chargers are refillable while others are not. Make sure to factor in refilling while picking your cream charger.
Warranty
No buyer wants to invest in a piece of kitchen equipment that will last only for a short time. Whenever you're buying an N20 cream charger, it will be ideal to look for a warranty. The warranty will give you assurance over the quality of the product.
Besides, if your cream chargers misbehave in the kitchen suddenly, you'll have a backup. Typically, the warranty comes with a good cream charger brand. Plus, having a warranty means you don't have to spend extra on its repairs.
Hållbarhet
As with any other kitchen equipment, even cream chargers should use solid materials for their body and construction. Poor quality and easily breakable equipment can never withstand the heat of the kitchen. Moreover, if you are buying these cream chargers for commercial use, durability becomes an indispensable factor.
Ideally, you should pick a cream charger that has a durable aluminium or steel body. Since the chargers contain nitrous oxide, no other material would be appropriate. We also suggest purchasing a cream charger that is certified for quality assurance. 
Want to learn how to use a cream charger? Smartwhip has a step-by-step guide on using their whipped cream chargers so that you can finish your task in quick time!
Bottom Line
With a quality whipped cream charger in your kitchen, your desserts and dishes can never go wrong! What's more? Cream chargers are pretty user-friendly. With any of the above cheap cream chargers, you'll have a great experience making beautiful whipped cream swirls.
We mentioned plenty of choices for cheap cream charges. But, we would love for you to give Smartwhip cream chargers a try. Not only is the Smartwhip cream charger very affordable, but it packs an innovative charging system.
Whether you own a small commercial kitchen or run a big restaurant, these cheap chargers will help you make the most out of your cooking!
Do you want to try out a gastronomy foam recipe? Take Smartwhip's advice and explore these recipes!